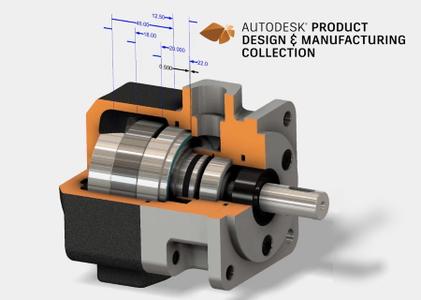 Autodesk Inventor Tolerance Analysis 2020.1
File Size
: 302 MiB
The Autodesk products team is pleased to announce the availability of Tolerance Analysis 2020.1, is a CAD-embedded 1D analysis solution which reports the mechanical fit and performance of your design based on dimensional tolerances.
New enhancements in the Tolerance Analysis 2020.1 update - Date: July 21, 2019
The following enhancements are included in the Inventor Tolerance Analysis 2020.1 Update:
- Faces are now inferred from Insert constraints and they participate in an automatic constraint loop.
- Automatic constraint loop participants now include subassembly components.
- If a Mate constraint consumed in the constraint loop contains an offset value, the offset value is automatically added to the stackup.
Fixed Issues in 2020.1
- Most geometry editing operations are now disabled when the Tolerance Analysis environment is active because geometry edits can cause a crash. The preferred workflow is to exit the environment before making changes to the CAD model. (INVGEN-29588)
- Stackup data can be marked as invalid if two copies of an assembly are opened in the same session. (INVGEN-30304)
- Tolerance Analysis 2020.1 can be installed on Inventor 2019 RTM with no installation error. (INVGEN-28254)
- Preview boxes are no longer missing when creating tube and pipe run. (INVGEN-27525)
Inventor Tolerance Analysis
is a CAD-embedded, 1D analysis solution that reports the mechanical fit and performance of designs based on dimensional tolerances. Stack-ups automatically capture the relationships defined in the assembly model - and for Model-Based Definition users, tolerance values can be edited directly inside the software to streamline the process between design and manufacturing.
With an in-canvas workflow that uses geometric dimensions and tolerances right on your model, analyze critical areas of your design to ensure they satisfy your objectives for manufacturing. Inventor Tolerance Analysis captures the necessary parts and mate relationships automatically to close the loop.
Autodesk Inventor Tolerance Analysis Overview
Autodesk
helps people imagine, design and create a better world. Everyone-from design professionals, engineers and architects to digital artists, students and hobbyists-uses Autodesk software to unlock their creativity and solve important challenges.
Product:
Autodesk Inventor Tolerance Analysis
Version:
2020.1
Supported Architectures:
x64
Language:
English
System Requirements:
PC *
Supported Operating Systems:
*
Software Prerequisites:
*
Size:
309.2 MiB
System Requirements:
- OS : Windows 7, 8, 10 (64 bit)
- Autodesk Inventor Tolerance Analysis 2020 requires Autodesk Inventor 2019 or 2020
- Please ensure that you are installing a supported operating system. Autodesk Inventor 2019 and Autodesk Inventor Professional 2019 support only 64-bit operating systems and can not be installed on 32-bit systems.
- CPU
Recommended:
3.0 GHz or higher, 4 or more cores
Minimum:
2.5 GHz or greater
- MEMORY
Recommended:
20 GB RAM or more
Minimum:
8 GB RAM for less than 500 part assemblies
- DISK SPACE
Installer plus full installation: 40 GB
- GRAPHICS
Recommended:
4 GB GPU with 106 GB / S Bandwidth and DirectX 11 compliant
Minimum:
1 GB GPU with 29 GB / S Bandwidth and DirectX 11 compliant
- DISPLAY RESOLUTION
Recommended:
3840 x 2160 (4K); Preferred scaling: 100%, 125%, 150% or 200%
Minimum:
1280 x 1024
- NETWORK
Internet connection for web install with Autodesk Desktop Application, Autodesk collaborative functionality, .NET installation, web downloads, and licensing.
Network license manager supports Windows Server 2016, 2012, 2012 R2, 2008 R2 and the operating systems listed above.
- SPREADSHEET
Full local installation of Microsoft Excel 2010, 2013 or 2016 for iFeatures, iParts, iAsembles, Global BOM, Parts Lists, Revision Tables, spreadsheet-driven designs and Studio animation of Positional Representations.
64-bit Microsoft Office is required to export Access 2007, dBase IV, Text and CSV formats.
Office 365 subscribers must ensure that they have a local installation of Microsoft Excel 2016.
Windows Excel Starter, OpenOffice, and browser-based Office 365 applications are not supported.
-.NET
Framework Framework .NET Framework Version 4.7 or later. Windows Updates enabled for installation.